If you came across this article, you likely know who Joe Rogan is. Rogan has been a standup comedian for over 20 years, has provided color commentary for the UFC since 2002, and has one of the most popular podcasts on the planet.
Rogan is also an elite athlete. According to Rogan's website: the Boston native earned a black belt and soon became the Massachusetts full contact Tae Kwon Do champion four consecutive years.  By the age of 19, Rogan won the US Open Tae Kwon Do Championship and as lightweight champion went on to beat both the middle and heavyweight title-holders to obtain the Grand Championship. 
Rogan takes working out extremely seriously and credits it to much of his success. So, we know why you're here.. what is Joe Rogan's pre workout stack?
Joe Rogan's Pre Workout Stack
Alpha Brain + Shroom Tech Sport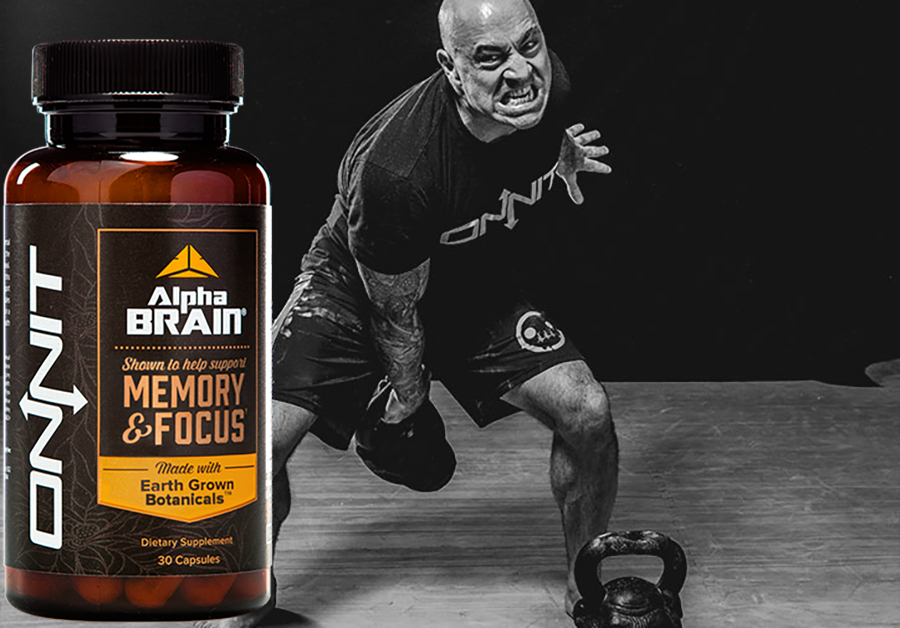 Joe has mentioned on his podcast and the Instagram post below that he takes Alpha Brain and Shroom Tech Sport before he works out. More specifically, he takes four pills of each. Shroom Tech Sport is actually pretty legit – it's a combination of cordyceps sinensis mushroom, adaptogens, antioxidants, and methyl B-12. This allows for a cleaner energy instead of a purely stimulant-based pre-workout. The ingredients in Shroom Tech Sport allow for the production of ATP, which provide energy on a cellular level while improving oxygen utilization.
Like Alpha Brain this product is by Onnit – but as with Alpha Brain, they put in the work to do some actual clinical studies instead of just promoting some snake-oil product that doesn't work. In a 12-week clinical trial using college-aged men at Florida State University, Shroom Tech Sport was shown to increase bench press reps by 12% and cardio performance by 8.8% versus a placebo.
We recommend going with the 84-count, as the smaller bottle will literally last you about 10 days. This a great pre-workout that will really put you in a good mood and have a positive effect on your mind as opposed to having the jitters from a pre-workout stuffed with stimulants. You can save money by buying the combo pack of Alpha Brain and Shroom Tech Sport on Amazon.
Coffee + MCTs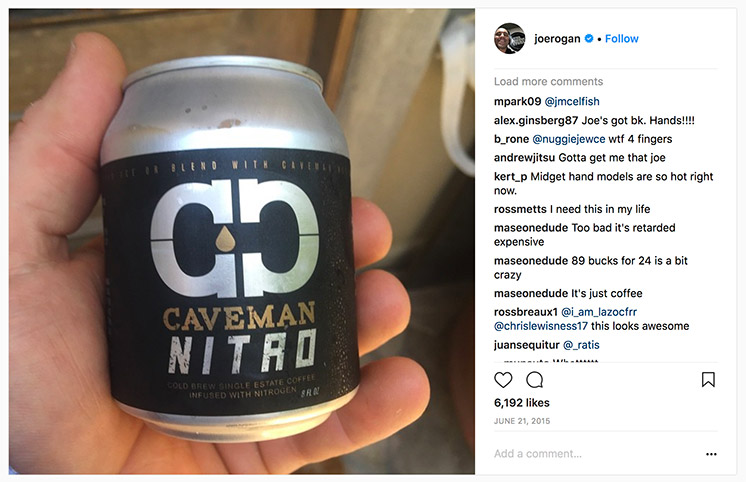 I first heard Joe mention Caveman Nitro when he was a guest on the Aubrey Marcus Podcast. Joe used to be a Bulletproof Coffee guy, but according to multiple podcast and social media mentions, he seems to be more of a fan of Caveman Coffee now. Along with Joe Rogan, Chris Pratt has also endorsed this stuff, so you know it's going to be pretty good.
Caveman Coffee was co-founded by his friend Tait Fletcher. The single origin beans used in this concoction are hand-picked Colombian and Brazilian beans that are wet processed and then small batch roasted by a mystical coffee master.
You've probably seen Joe and his guest popping cans of Caveman Coffee's NITRO Cold Brew. In his own words, this is Rogan's favorite way to catch a buzz in the morning. And according to the tweet below, he mixes Onnit Emulsified MCT oil with Caveman Nitro and refers to it as "rocket fuel".
Check out the video below to see him describe his pre workout supplementation on The Joe Rogan Experience: