Supplements are all the rage these days and for good reason. They can help bridge nutritional deficiency gaps, provide an extra boost when needed, and can help you heal at an increased speed if you are sick.
There are thousands of vitamin and mineral supplements out there, and many of these are low-quality and over-priced. With the market flushed with vitamin supplements, how are you supposed to know which ones to take without breaking the bank?
Enter Total Human by Onnit Labs. Total Human is an "all-in-one" supplement that delivers essential vitamins, minerals, and other botanical nutrients that have been clinically-studied to optimize human performance and health. Total Human complete re-invents the "multivitamin".
Multivitamins can help balance out nutritional deficiencies, increase energy levels, improve mood fluctuations, help support muscle strength, and support a variety of other functions as well.
Today we are going to completely dissect Total Human by Onnit Labs, a brand that is tried and true to maintaining high-quality supplements at affordable prices.
Overview of Onnit's Total Human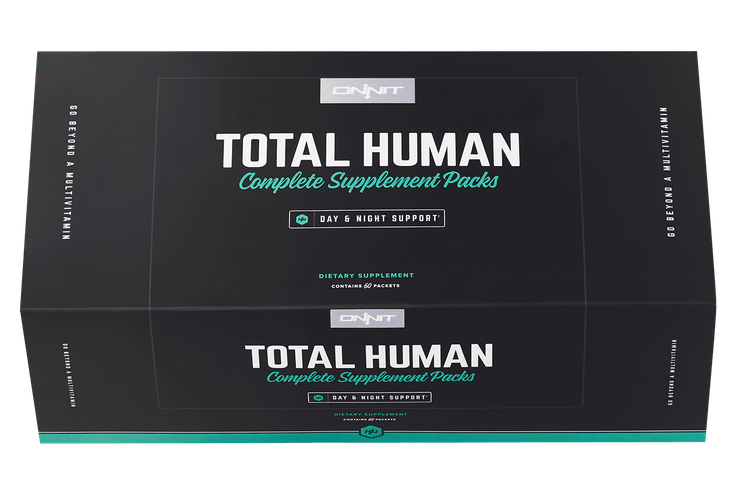 Starting with the basics — Total Human is a supplement proudly made by Onnit Labs, a food and fitness supplement company based in Austin, Texas made famous by Joe Rogan.
Before we dive into the supplement itself, if you don't know Onnit, it's one of the big names when it comes to the fitness and supplement industry. In fact, Onnit has a variety of well-known supplements such as Alpha Brain, New Mood, Total Human B Complex, Shroom Tech Sport, and a few more others (which are all included in Total Human).
It has created a successful chain of supplements, which are researched and tested to perfection, one of which being Total Human. Total Human was designed to "cover all your bases".
According to Onnit, Total Human is "a complete re-imagining of the daily multivitamin, combining several of Onnit's best-in-class formulas into an all-in-one product that's specifically balanced to support the brain, bones, and joints, and aid mood, energy, and immune health."
While it's among thousands of other options on the market, Total Human is not your ordinary multivitamin. Many of the low-quality multivitamin options on the market do not provide the right dosages, are packed with fillers, and leave out some of the higher quality ingredients in order to cut costs. Instead, Total Human combines the best of all ingredients, using research as their main driver for success.
More than a Multivitamin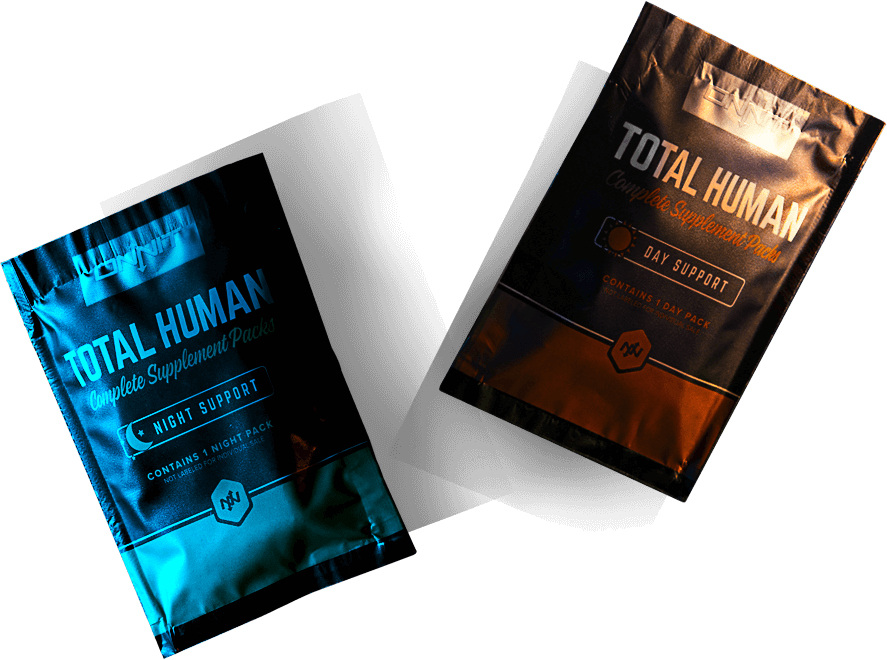 What's more, Total Human is a two-part supplement. It comes with "Day Support" and "Night Support" packets to fulfill all day needs. In other words, the supplements of Total Human are separated for morning intake and night intake. This is to address our needs for the day – improved mood and energy (among other benefits) and for the night – better relaxation and sleep for the night.
Reimagining the multivitamin, Total Human combines clinically-studied vitamins, minerals, and other tested nutrients that have proven to boost peak performance every day. They combine a variety of their other supplements in a single pack to make it easier than ever for you to stay fueled.
The packs generally promise to support your focus, energy, endurance, sleep quality, and general wellness to keep you in peak performance, but there are a variety of other benefits as well that we will discuss below.
The two packets boast different ingredients, optimized for each moment. The packets are easy to take and even easier to travel with. Whether you're at work early in the morning, or at your friends late at night, these packets are accessible and easy to take at any point in time.
Total Human Day Pack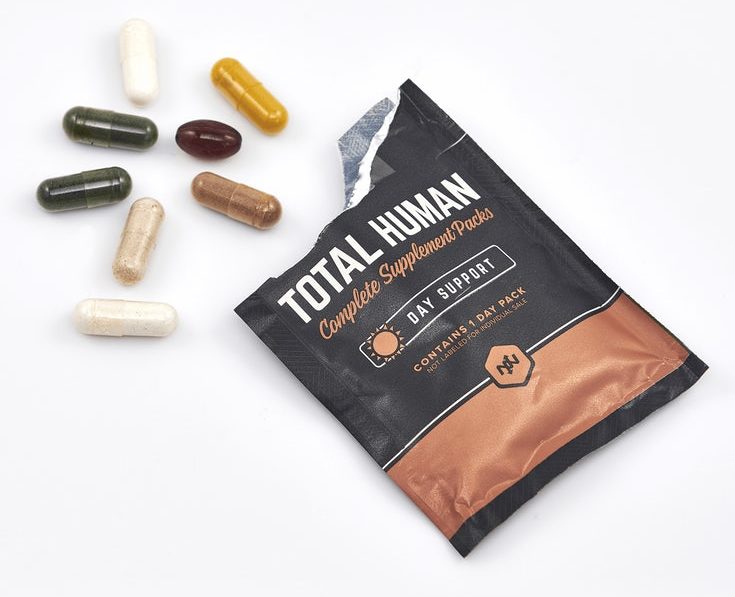 The Total Human Day Pack helps "support your focus, energy, endurance, and general wellness to keep you on point and performing effortlessly at your best." It includes supplements from Alpha Brain, Shroom Tech Support, Total Human Complex, and Stron Bone.
These supplements work together to bring your body to peak performance, whether you are an athlete, entrepreneur, student, or anything else! One of the top benefits to these supplement packs is they work well for anyone that is trying to improve performance.
Total Human Night Pack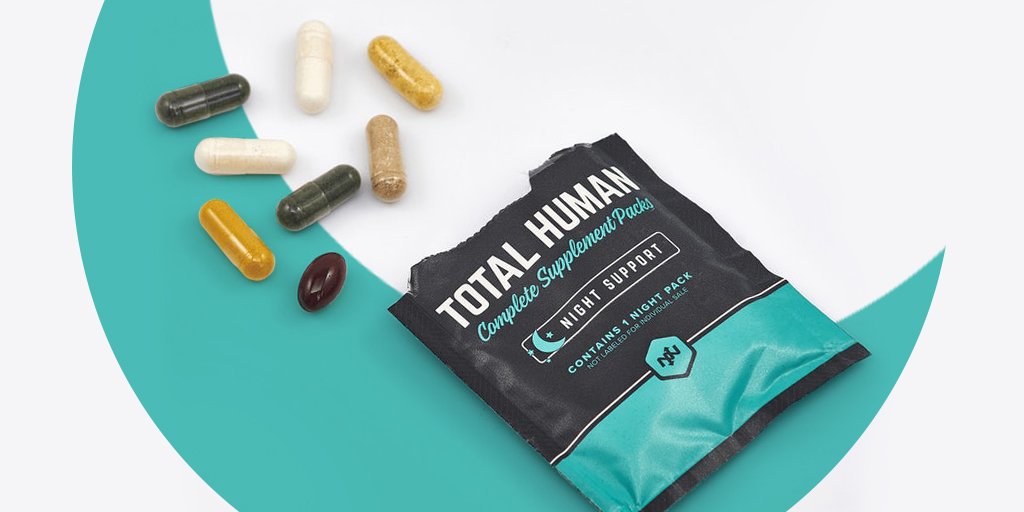 The Total Human Night Pack helps you recover and relax each and every night before bed. We live in a fast-paced world, and winding down before bed is hard for many of us. The Night Pack will not only help you fall asleep peacefully and quickly, but it will help you wake up rested and energized the next day.
The Night Pack combines New Mood, Virutech, and Key Minerals to provide the best pre-sleep formula for your body.
As with any supplement, to better understand how Total Human works, we will take a closer look at its label and its ingredients of both packs below. But first, it's important to understand one of the main ingredient categories included in these supplements — nootropics.
What are Nootropics?
Defined by a Romanian chemist in the mid-1960s, nootropics are substances that enhance the brain's ability to function. Part of what makes these ingredients often referred to as "smart drugs," so powerful is that they don't come with any side effects.
While deemed "smart drugs," don't let the terminology trick you into thinking these are drugs. Nootropics are made up of plants, herbs, extracts, vitamins, minerals, amino acids, and other natural supplements.
Popular Nootropics and Their Benefits
While nootropics can come with a variety of benefits, some of the main ones include the following.
Memory – Popular memory nootropics include Alpha-GPC and Bacopa Monnieri. There are two neurotransmitters in your brain that impact both learning and memory, glutamate, and acetylcholine. Nootropics can increase your brain's bandwidth when it comes to both learning and memory.
Focus – GABA, and norepinephrine are the two main neurotransmitters associated with focus. Acetylcholine, epinephrine, and dopamine also play a role in maintaining and increasing attention span.
Mental Energy – Vitamin B6 and L-Leucine are two common and well-known ingredients that work to improve energy without having to use caffeine. ATP, the body's main source of energy, is the molecule that transfers energy from cell to cell. Nootropics can increase the energy your body produces, and in turn, increase your brain's stamina as well.
Brain Health – Nootropics often contain Phosphatidylserine which is what creates a strong structure for your brain cells. Ingredients with antioxidants and anti-inflammatory properties will also help reduce oxidative stress, which in turn increases your longevity.
Mood – L-Theanine and L-Tyrosine are two popular amino acids that can help improve mood and are common nootropic ingredients. These amino acids play a crucial role in the body's production of the neurotransmitters dopamine and serotonin, which produce positive feelings in the human body.
Ingredients of Total Human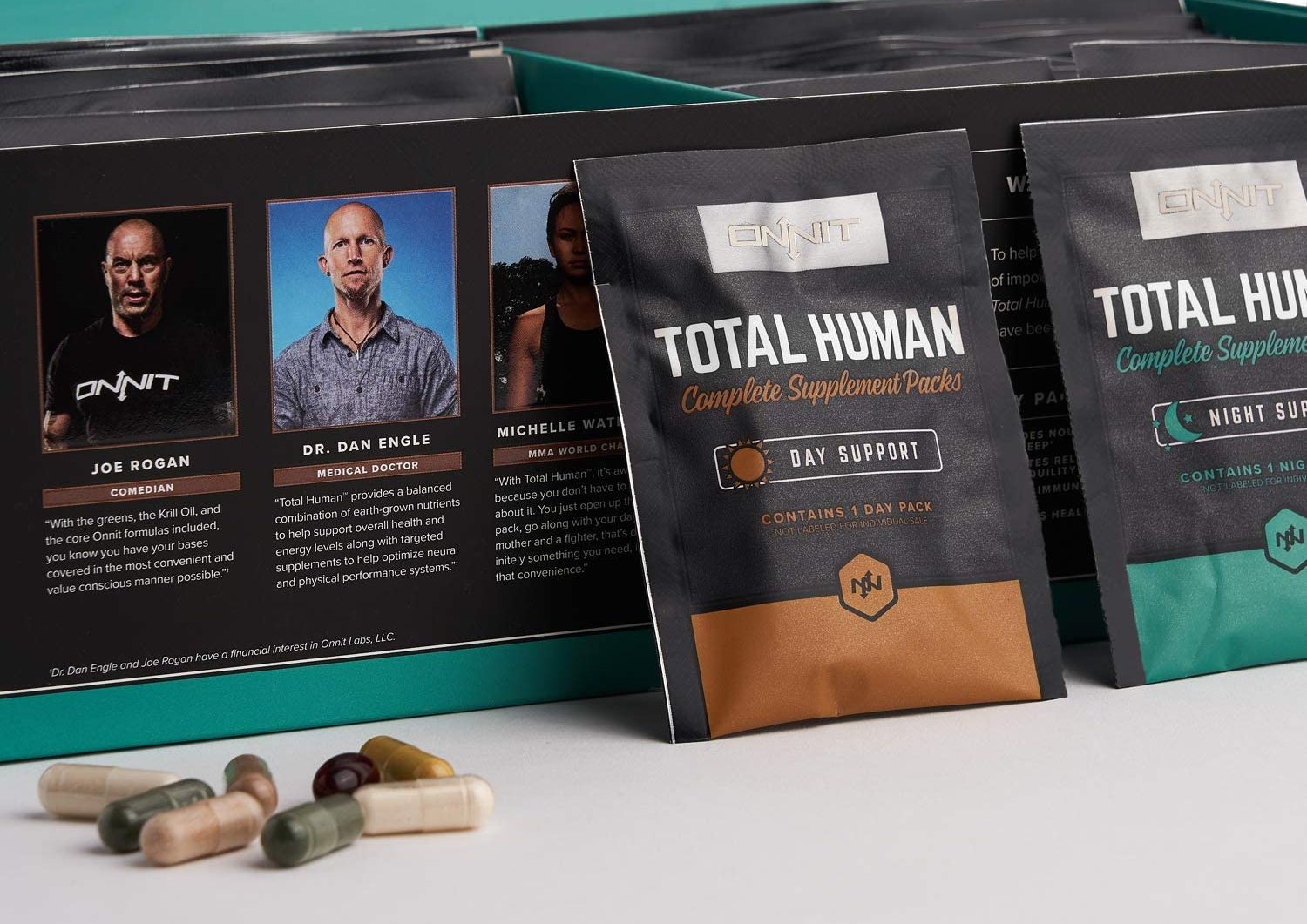 The Total Human packs include a large number of ingredients, and I really mean a lot! This is mainly because, as mentioned earlier, Total Human includes a combination of some of Onnit's best supplements including the following:
Day Pack
Alpha Brain
Shroom Tech Support
Total Human Complex
Stron Bone
Night Pack
New Mood
Virutec
Key Minerals.
Each above supplement is made with different "blends." For example, the best-selling Alpha Brain supplement made famous by Joe Rogan includes the Onnit Flow Blend, Onnit Focus Blend, and Onnit Fuel Blend (with AC-11). The Onnit Flow Blend includes L-Tyrosine, L-Theanine, and Phosphatidylserine, the Onnit Focus Blend includes Alpha-GPC, Bacopa Monnieri, and Huperzine-A, and the Onnit Fuel Blend includes L-Leucine and Pterostilbene.
In total, it contains 11 powerful nootropic ingredients, which you can find a further breakdown of here.
Instead of dissecting the different blends in each supplement included in the Total Human packs, we are going to dissect the different formulas used for its Day Support and Night Support – and explore the benefits of each.
Total Human Day Support's Formula
The Total Human Day Support Packet includes the four following supplements: Alpha Brain, Shroom Tech Support, Total Human Complex, and Stron Bone.
Each supplement was designed with a different purpose, all to help improve your overall well-being and performance.
StronBONE
StronBone is one of the supplements included in the Total Human Day pack that is designed to help you build stronger bones, thanks to its boron, strontium, and other vitamin content. Strontium itself helps fortify your bones, reducing the number of broken-down bone cells, while stimulating the growth of new ones.
Aside from strontium, the supplement also includes vitamin K2, vitamin E, potassium, copper, manganese, boron, and Bioperine. These ingredients work together to keep your bones supported and healthy day-in and day-out.
Alpha Brain
Onnit's flagship product, Alpha Brain, is a nootropic supplement designed to improve one's memory, mental speed, and focus. This supplement, which is Onnit Lab's most popular supplement, works to increase your memory and focus on a daily basis.
This brain booster is supported by three of Onnit's blends, the Onnit Flow Blend, Onnit Focus Blend, and Onnit Fuel Blend. The Onnit Flow Blend includes three ingredients — L-Tyrosine, L-Theanine, and Phosphatidylserine, which work to make you feel calmer.
The Onnit Focus Blend includes Alpha-GPC, Bacopa Monnieri, and Huperzine-A. These ingredients work together to increase focus. Lastly, the Onnit Fuel blend includes L-Leucine and Pterostilbene, two ingredients that help you focus and zero on whatever tasks you have at hand.
This supplement is great because it truly helps you mellow out more, while simultaneously improving your focus and cognitive load each day.
Total Human B Complex
This formula is packed by B-vitamins for better performance and improved overall health. This includes better cognitive performance, improved energy production, enhanced neural communication, and a few more!
Shroom Tech Sport
This formula mainly uses Cordyceps Sinensis to improve our body's ATP level, which in turn, improves our body's energy level. It also includes ashwagandha, green tea extract, Rhodiola, and methyl b-12. All of these ingredients work to produce extra natural energy in your body.
This formula typically can be great to take before working out, but it can also aid in an overall energy boost and work optimization, too.
One of the most impressive parts of the Shroom Tech Support supplement is that it was actually tested in a clinical trial at Florida State University for 12 weeks. The results showed a statistical increase in performance for those that took it versus those that didn't.
Total Human Night Support's Formula
The Total Human Night Support Packet includes the three following supplements: New Mood, Virutech, and Key Minerals. These different supplements work together to help your body mellow out before bed, rest deeply and soundly, and wake up more alert and aware the next day.
New MOOD
New MOOD is Onnit's stress-response formula. This formula contains key mood-enhancing herbs such as chamomile flower, lemon balm, jujube seed, and Valerian root. These herbs can promote relaxation and improve serotonin production in our bodies.
Matched with a few different vitamins, including vitamin B-3, vitamin B-6, and magnesium, the New MOOD supplement is perfect for anyone that struggles with sleeping soundly each night.
ViruTech
A formula containing vitamin C, zinc, and selenium, ViruTech is made to increase your defense and resistance against germs and viruses. It helps fight free radicals, aids in immune system regulation and supports cellular integrity.
Similar to the ShroomTech, included in the Day pack, this supplement works well on keeping your body healthy on a day-to-day basis.
Key Minerals
This formula contains key minerals such as calcium, magnesium, iodine, and boron to enhance body support and optimization. These minerals help bridge the gap from any missing nutrients or minerals that you might experience in your body.
Supplements In both packs
Spirulina & Chlorella
This formula is made with quintessential green superfoods needed for the improved immune system, better endurance and it is also good for heart health support.
Shroom Tech Immune
Like Shroom Tech Sport, Shroom Tech Immune is also mainly made from mushroom products. The major goal of this is to boost your immune system and provide daily support.
The Shroom tech immune supplement includes turmeric, ginger, and oregano to help build and support your body on a daily basis. It also includes Chaga, astragalus, cordyceps, reishi, maitake, and shiitake, a myco-immune blend to also keep your immune system in tip-top shape.
Krill Oil
Krill Oil is Onnit's DHA & EPA supplement. These are fatty acids our body needs but does not produce. Therefore, consumption is needed to get them.
Pros and Cons of Total Human
Pros of Total Human by Onnit Labs
Given the number of ingredients and the quality of ingredients, it's easy to assume that this product works! That's actually one of the best things about Total Human, this supplement simply works.
However, there are many multivitamins that work. What separates Total Human from other multivitamins is that it is packed not only with vitamins and minerals but formulas, coming from each supplement included, that deliver and promise certain results. Ultimately, you can expect a wide variety of benefits from Total Human – many that you wouldn't think would come from a multivitamin supplement.
As for the benefits of Total Human, there are a variety of them! If you look at the official website for Total Human you will see the claims they make:
The Total Human Day Pack supports your focus, energy, endurance, and general wellness to keep you on point and performing effortlessly at your best.
The Total Human Night Pack helps you turn off the lights with a peaceful smile and nourishes your body with the raw materials it needs to wake up feeling rested and energized.
While these claims are very strong, we see they are well-supported by the high-quality ingredients Onnit uses along with having a large line of trusted supplements.
Another advantage to the Total Human supplement is the price. While it might seem steep at first glance, $137.95 for a month, when broken down it seems a lot more affordable, with Onnit even claiming "you'll save 40% savings with Total Human versus buying each of its component supplements individually."
They break down the cost on their website, but it ultimately shows that the average supplement cost per day is $7.68, whereas the Total Human (which includes 10 different supplements) only costs $4.60.
Compare that to the cost of a cafe latte, around $4-6, the price doesn't seem so high anymore. Especially because for only $4.60 a day, it's working to help keep your health in top form.
Cons of Total Human by Onnit Labs
Personally, I don't see any negative side of Total Human. Some may note that it has too many ingredients for your body to digest, but their technology and research argues otherwise.
Some also note that taking a few pills for day and night – and the fact that you have to take this supplement by the day and by night, making it quite impractical – is a downside for the supplement. But for us, these are just a little price to pay if you want to keep your health optimized – it won't really hurt to take a few sets of pills for the day and night!
Speaking of price, Total Human is indeed pricey for a multivitamin supplement with a price of $137.95! It's important to remember that the Day packet includes four supplements from Onnit Labs and the Night-packet includes three.
However, considering that this is a powerful and one-of-a-kind supplement, the price is certainly reasonable. It really comes down to you and personal preferences.
Dosage + Packaging + Pricing
Just the packaging of Total Human by Onnit Labs is enough to entice the consumer to purchase. Sleek in design, and simple in color, the black box with blue accents is the perfect addition to your countertop, cabinet, or even office space, depending on where you like to take your supplements.
Intended for twice a day use, the box includes a packet for both morning and nighttime, the different supplements separated by a divider. The Night-packet includes a single supplement from New Mood, Virutech, and Key Minerals. The Day-packet includes a single supplement from Alpha Brain, Shroom Tech Support, Total Human Complex, and Stron Bone.
The ingredient label shares the dosage amount for each packet, which you can look at closer here.
One month's supply of Total Human is priced at $138, two months at $275, and three months at $413. If you subscribe to their program you can get a 15% discount, lowering the prices to $117 for one month, $234 for two months, and $414 for three months.
While the pricing might seem high, it's important to remember that you are getting 7 vitamins a day from 7 of their different supplements. To put it in perspective, the Alpha Brain supplement, included in the Day packet, alone costs $80.
Possible Side Effects
Considering the variety of ingredients packed in Total Human, you may worry about possible side effects. But so far, there's actually no potential side effects that may come with Total Human.
But of course, each body reacts differently to an exact same supplement, so I cannot really tell if you'll experience side effects or not. But in case you experience side effects, lower or stop your consumption altogether.
But generally, there have been no reported side effects so far.
Final Verdict
There are millions of multivitamins on the market, and this can make it hard to choose from. Considering that this is a great option to take instead of a multivitamin supplement, we would give our 100% stamp of approval.
The Onnit Labs supplements combine a variety of different vitamins and supplement strands from their top products, which sets you up for success.
Another benefit of trying out the Total Human Night and Day packets is that you get to test out some of their best products. You get to try New Mood, Virutech, and Key Minerals, Alpha Brain, Shroom Tech Support, Total Human Complex, and Stron Bone.
Total Human is designed to help increase your energy, well-being, and your ability to focus. The Night pack also works to increase the depth of your sleep which aids in productivity the next day.
The supplement promises to help increase energy and longevity during the day, and help you sleep deeper and wake refreshed each morning, so it's worth your while to try it out. Use code "brainflow" to get 10% off Total Human at checkout on the Onnit website. 
Onnit Total Human Free Trial & Coupon Codes