Onnit is a revolutionary company with the goal of optimizing the human body for peak performance. Whether you're an athlete, biohacker, busy professional, entrepreneur, or student, Onnit can help you achieve your goals.
Started by Aubrey Marcus and Joe Rogan to name a few, Onnit not only has amazing athletic supplements, but they have top of line nootropics, keto supplements, and much more. Recently signing Gary Vaynerchuk to their Pro Team, Onnit is the perfect supplement company for someone looking to get the most of out of themselves. Whether it be 16 hour days building your company from the ground up, or training in the gym three hours a day, Onnit has something for everyone.
Now, we know why you're here. Here are the free trials and coupon codes currently going on at Onnit.
Onnit 10% Off Coupon Codes
If you want to get the latest Onnit products, you can actually save money on them by ordering through the Onnit website and using one of the following Onnit coupon codes.
Use our code brainflow for 10% off your entire order. 
Use code GETONNIT on the Onnit website at checkout for 10% off your entire order.
Use Joe Rogan's code ROGAN on the Onnit website at check for 10% off your order.
Click here to check out Joe Rogan's full supplement stack.
Onnit also offers a permanent 15% off to anyone serving in the military. You will need to verify your identity by contacting Onnit using your military email address, or by uploading a picture of your military ID. Onnit will also reduce the cost of international shipping to those currently serving overseas.
Alpha Brain Free Trial
Onnit offers a free trial of their flagship nootropic product Alpha Brain. If you are looking for something similar to the "Limitless" pill from the Bradley Cooper movie, this is for sure the closest thing on the market to it.
Alpha Brain is one of the few nootropic supplements backed by clinical studies and is proven to boost memory, focus, and clarity. Alpha Brain is loaded with natural nootropic ingredients to give you the mental edge you're looking for. Joe Rogan takes Alpha Brain before his podcast and said he notices a crazy difference. So try out the free trial of Alpha Brain if you don't want to make the investment yet.
Shroom Tech Sport Free Trial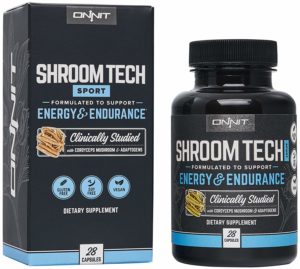 Shroom Tech Sport is an all-natural pre-workout supplement that has an exclusive combination of cordyceps sinensis mushroom, adaptogens, antioxidants, and methyl B-12. Shroom Tech Sport is taken by hundreds of professional fighters and athletes. When it comes to battling fatigue, there is no better supplement on the market than Shroom Tech Sport. According to the Onnit website, Shroom Tech "battles fatigue by providing cellular energy through the production of ATP rather than purely stimulant-based energy, and helping the body to improve oxygen utilization so you can go longer, recover faster, and set a new personal best."
In a double blind placebo 12-week clinical trial performed at Florida State University, Shroom Tech Sport was shown to increase bench press reps by 12%, bench press and back squat reps by 7%, and cardio performance by 8.8%. It's no wonder Joe Rogan raves about this stuff. Check out the video below for more info on the study.
New Mood Free Trial
Onnit also offers a free trial of their mood support supplement New Mood. New Mood helps promote happiness and relaxation by boosting serotonin. New Mood combines L-Tryptophan and 5-HTP, the building blocks of serotonin, with a converting catalyst vitamin B6 to optimize your serotonin levels. New Mood also contains a host of naturally relaxing herbs like chamomile flower, valerian root, jujube seed, and lemon balm to chill you out and promote healthy stress reduction.
New Mood is the ideal supplement for when you are under stress, want to improve happiness, or want to drastically improve your quality of sleep.